SPACE BASTARDS proudly present a SPACE BASTARDS production of a SPACE BASTARDS game
Bloody Hell! It's the greatest game ever*
and you can download it NOW!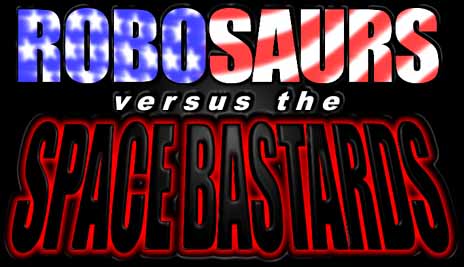 YES, "ROBOSAURS VERSUS THE SPACE BASTARDS"
SINGLE PLAYER / MULTI PLAYER ACTION
MORE LEVELS THAN YOU CAN SHAKE A STICK AT
CHOICE OF 4 CELEBRITY ROBOSAURS TO PLAY WITH
COLOURFUL LANGUAGE FOR ALL THE FAMILY
SCANTILLY-CLAD WOMEN IN CAGES
SHAREWARE VERSION AVAILABLE TO DOWNLOAD NOW
It is not our intention to upset anyone, so if you are easilly offended, please f*ck off. Thank you for your anticipated cooperation.
* Source : some guy we met at the airport
Nobody we like was harmed in the making of this game. Robosaurs Versus The Space Bastards is not affilliated with Microsoft in any way (though in a financial sense we wish we were) and our irrational hatred of Netscape products is nothing more than a healthy and wholesome obsession. Hmmm... I could say anything I wanted to here and nobody would ever read it, this being small print and all....
Naturally, we believe all sounds and images on this site (other than those we created ourselves) to be public domain and free for our use. If we have unintentionally infringed anybody's rights or anything like that, please email us and we will be pleased to remove the offending materials. Well, we'll do our best. You know how it is. We now return you to your scheduled programmes.