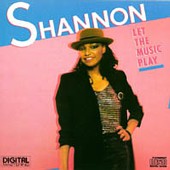 Back in the 80's I had some records by an artist called Shannon. She'd made it really big in America with her debut singles "Let the Music Play" and "Give me tonight". However for some reason she never seemed to make it big in the UK. The records used to get played at clubs in the late 80's but I guess her records had long since been released by the time they became popular over here.
I managed over the 80's to get her first 3 albums imported. They were on Vinyl as that was the medium of choice as you will recall. Anyway, everyone kept borrowing the records off me to tape – oh for CD's and MP3… they were probably the only sort after records in my collection.
I never managed to replace them on CD and have over time generally forgot about her. Once or twice I've done a search to see if the original albums can be bought on CD, but to no avail. ( You can now get a Best Of CD on Amazon )
Anyway, I was listening to Desert Island Discs ( yes I'm getting old now – deal with it! ) which featured Neil Tennant of the Pet Shop Boys and he talked about going to America to cover the release of a Shannon record. He talked about how her the sound of her records influenced early Pet Shop Boys. It was only while listening to the version of "Give me Tonight" that they played that I suddenly realised this link – and it's such a pronounced one!
Anyway, it was a slight trip down memory lane while I thought about that time when Shannon was in my life…

Shannon
,
Neil Tennant
,
Pet Shop Boys

Neil Tennant
,
Pet Shop Boys
Related Posts: