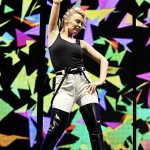 Victoria and I went to watch Kylie at the O2 last night with Darren and Gail.
First things first; we stayed at a little B&B not far (5 mins in a taxi) from the Puerto del Carmen and o2 called One Six Two – it was a great little place, well worth the money and in a fantastic location for the O2. So if you plan to visit the O2, I can highly recommend it, but more on that in another post.
After arriving at the B&B we went to the venue to grab something to eat. We ate at Las Iguanas, a South American style restaurant; it was very nice!
In the concert arena we had seats very similar to those for the Prince concert last year, just on the other side. I was quite relieved as I feared that we would be up in the gods. The o2 has very steep seating, and being near the top could be almost unbearable. As it was we were only 3 rows in on the top tier, which actually gives a very good view of the stage.
The show started at about 8pm. It was basically broke up into 8 acts with a stage theme to each, and a costume change between! Some of it was surreal, some of it was more than a tad camp… but all of it was pretty darned great! I enjoyed a few tracks that had much rockier tracks to them. I also enjoyed the video screens. They were actually worth watching because they would often show the whole stage from a higher angle and show what the all the dancers were doing in context.
Had a fab time – really enjoyed it – well worth it!
I think that this was pretty much the track list…
Act 1: Xlectro Static
* Speakerphone
* Boombox/Can't Get You Out Of My Head (Greg Kurstin Remix)
* Ruffle My Feathers
* In Your Eyes

Act 2: Cheer Squad
* Heart Beat Rock
* Wow
* Shocked

Act 3: Beach Party
* Loveboat
* Copacabana
* Spinning Around

Act 4: Xposed
* Like a Drug
* Slow/Free
* 2 Hearts

Break

Act 5: Naughty Manga Girl
* Sometime Samurai (video projection)
* Come Into My World (Fischerspooner Mix)
* Nu-di-ty
* Sensitized

Act 6: Starry Nights
* Flower
* I Believe in You (ballad version)

Act 7: Black versus White
* On A Night Like This
* Your Disco Needs You
* Kids
* Step Back In Time
* In My Arms

Encore
* No More Rain
* The One (Freemasons Vocal Club Mix)
* Love At First Sight (Ruff & Jam US Radio Mix)
* I Should Be So Lucky
Related Posts: