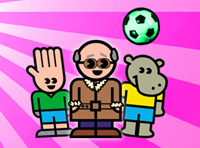 Well today has ended on a real downer! Over 5 years ago Fergus McNeill and I designed a game Happy Soccer Boss – it's a football game with a difference. There are a number of special things about it that I don't want to go into here, mainly because they are still "secret" and the other is that we have a patent pending on part of it. However, a big premis of the game still revolves around football, and a particular way the football is played. It has a lot to do with powerups, 5 aside, special moves, cute characters, and much much more…
Over the last 5 years we've hawked it around to pretty much everyone who is anyone in the games industry, and everyone has loved it… just not enough to sign us to develop it. And because we can't afford to just develop it ourselves, it's been one of theose projects sitting on the sides waiting for us to get the chance to do it.
Tonight I saw an advert for Super Mario Smash Football on the TV… and it's pretty much Happy Soccer Boss; a quick search online for some pictures, and the confirmation looks like it's there… Smash Football looks to me like Happy Soccer Boss – I'm gutted!
This is not the first time this has happened to me, but it is definatley the most annoying!

Mario Smash Football
,
Super Mario Strikers
,
Happy Soccer Boss

Mario Smash Football
,
Super Mario Strikers
Related Posts: