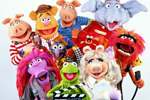 Rebekah has started watching my "Best of the Muppets" videos. Yes videos, not DVD's… The box set has 6 VHS tapes with 6 episodes per tape and it covers pretty much the 36 biggest stars they had on the show. I don't think you can get the same on DVD, which is a shame. Although I have noticed that they seem to be releasing the seasons DVDs… I just wonder how long it will take them to release the 5 years worth of footage. Season One is out now and it contains the first 18 episodes… oddly enough, none of them are on the box set I have!
Anyway, so much fun watching it back. I wish they would do an update one as I would definatley put it on my must watch list on a Saturday night.
Strangely enough… we also have 2 videos of Muppets compilations which both the kids love, however a few years ago when I bought the box set based on the fact that Rebekah seemed to love The Muppets compilation, she got bored of the show really quickly. I guess she didn't take to all the incidental stuff inbetween acts. Now she loves it though, but Jacob who is about the same age Rebekah was when I first bought it, also gets bored quickly.You can see more on The Happy Pooch.
See Also: The Official Muppets Web Site, The Muppets Wiki

Muppets

Muppets
Related Posts: