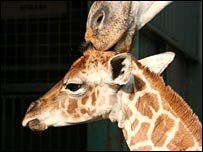 We took the kids to Longleat Safari for a day trip on Sunday. On the whole we had a good time. I must admit that I wouldn't choose to take the car through the monkey enclosure again having watched what they did to some of the cars that went through there.
The biggest problem we had was that the car started overheating while we were in the Monkey enclosure. Luckily we managed to get out of there unscathed but we took a 20minute lunch break on a grass verge in the small space in between enlosures in order to allow the car to cool down.
We then actually overheated in the Rhino enclosure and needed park assistance to get us working again. Another 20 minute break while we allowed the car to settle.
We then overheated again while in the Lion enclosure! the problem is that you are trying to move so little, so slowly and up and down hills that is just no good for driving. That said, I have never had a car overheat on me before and I have been in many traffic jams.
The real question is; what so you do when your car has overheated in the Lion enclosure, you can't move because of the traffic, you can't get out because of the lions, and because of the delays caused by car problems, you find you are bursting for a piss… and it's at least 45 minutes before you can get to the nearest toilets?
Luckily, the overheating meant that we got assistance and they managed to get us through the traffic to a safe place which also happens to have an emergency toilet! I wonder how often that happens? 🙂
I also later found that both my front tyres needed replacing. One had actually ripped!
See: Longleat Web Site

day trip
,
Longleat

Longleat
Related Posts: