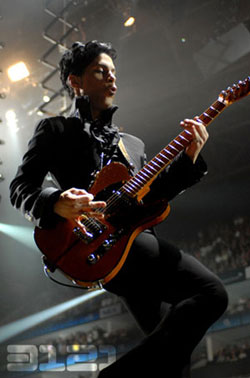 Went to see Prince at the O2 on Friday night… fantastic! 2 hours of none stop total music action! The guy is a musical genius. Although he's not as agile on stage as he used to be, he is afterall 49 and had a hip opperation, he still gets around, he's still a maniac with the guitar, and his dancers put on a performance enough for everyone.
He ripped through so so many hits, took us through a whirlwind musical tour, and toyed with the crowd in his usual cheeky mischevious ways;starting and stopping songs to get the crowd going, constant reference to the Rolling Stones who used the o2 the week before, playing a few riffs from their songs, laying down the rules of "his" house, and on and on… I can't remember all the songs he played, let alone all the part songs he mixed in while he was going. I do know that he played every song that I posted part lyrics for last week, almost together just before, within, or just after the piano section. That in itself was fantastic… Prince sat at a keyboard playing hit after hit is something to behold. As you would expect he played Purple Rain and had the crowd going for it, that is such a great concert song, and he really knows how to control the crowd with it.
We didn't see much of the support act, someone called 'Common' because it had taken us so long to get to London!
By the time we left the gig we were buzzing! We'd been debating since I bought the tickets 2 weeks ago, if we were going to do the aftershow or not. We'd pretty much decided to make the decision on the night, as we were staying at a hotel next to the venue we could adapt to the night, anyway we were still undecided going in but certain coming out! The aftershow is a gamble. It takes place in a small club at the O2 -The Indigo and there are no guarantees that there will be live music let alone that Prince will show up. You could spend £25 or even £75 each just to enter a club!
Anyway, we had a good feeling; Prince seemed in good mood and had not played a midweek concert due to the Stones gig… so we headed for the ticket office to see if we could get tickets. We managed to buy tickets straight away due to Victoria's quick thinking about leaving the main concert, which was handy as the queue got very big! We then queued from 11pm to 11:45pm – when we got into the club, which is very nice by the way, Victoria headed for the dance floor/stage and I got the drinks in!
We were about 2 or 3 people from the stage (depending on movement!) There were people tuning instruments behind the stage curtains which at least meant we would be treated to some live music later in the night. I noticed at one point something that looked liked Prince's effects pedals at the front of the stage, so I was starting to feel good about it, and then a little later a menber of the crew brought out a guitar to test with the pedals, the guitar was definatley a Prince guitar as far as I was concerned; we were in for a party night!
We hung out on the dance floor until 12:45 before the NPG, Common, and Prince hit the stage for what was going to prove one of the best 2 hours of music I have ever experienced!
The dance floor was now packed and we were at the front, Prince was a few feet away from us as he controlled his band to party the night away. It seemed to be a different personae than the person who had played 2 hours for us just earlier. This was a more intimate, more personal, more reactional gig. It just felt like Prince was just going with it, bouncing off the audience, playing whatever he felt like, however he felt like doing it. We were tired, foot sore from all the standing and dancing, sweat poured off me, at one point I thought cramp in my legs was going to take me down, but the adrenalin just kept us going!
We left the club at about 3am… definatley the best concert I've ever been to, and likely the best I will ever go to!
Apparently the Song list went like this… ( thanks to My Space, Fang for this list )
Main Show
1999 (full!), Alphabet St., Honky Tonk Women/Brown Sugar (riffs), Guitar, Cream, U Got The Look, Musicology, Play That Funky Music (feat. Common), Miss You Rolling Stones, Satisfied, The Rules, [Piano set] Little Red Corvette, Raspberry Beret, How Come U Don't Call Me Anymore?, Diamonds & Pearls, Sometimes It Snows In April, [Synth set] Sign o' The Times, Pop Life, Erotic City, When Doves Cry, Nasty Girl, Head, D.M.S.R., I Wanna Be Your Lover, Purple Rain, [Encore 1] I Feel For You, Controversy + Housequake chant, [Encore 2] Kiss, Nothing Compares 2 U
Aftershow
3121 (+ Common rap), The Light, Girls & Boys, What Have You Done For Me Lately? Janet Jackson, Partyman, Let's Go Crazy, I Never Loved A Man (The Way I Love You) (Shelby lead vocal) Aretha Franklin, Baby Love (Shelby lead vocal) Mother's Finest, Drive Me Wild Vanity 6
Break My Heart, Band Jam, Tell Me Something Good Rufus ft. Chaka Khan, A Love Bizarre Sheila E., Peach (vamp), Controversy (+ Common rap), Sexy Dancer/Le Freak Chic, Black Sweat (Prince bass solo), 3121/One Nation Under a Groove Funkadelic

Prince
,
21 nights in london
,
O2
,
Concert
,
Aftershow party
Related Posts: